This section contains letters from the boating community – sailors, captains, people who live on board, people who work in the marine industry – all with information about the marina not being a viable proposition.
Boater owners and captains will not come to use this marina:
          The design is poor.
          The marina is in the exposed section of the bay.
          Orientation of the docks will cause rocking of boats.
          Boaters prefer moorings instead of docks.
          Other harbors/marinas nearby are largely vacant.
The example to look at is Scrub Island Resort and Marina in the British Virgin Islands.
Here is an artist's rendition of the Scrub Island Marina prior to construction.  Today it sits mostly empty, and the property is in foreclosure.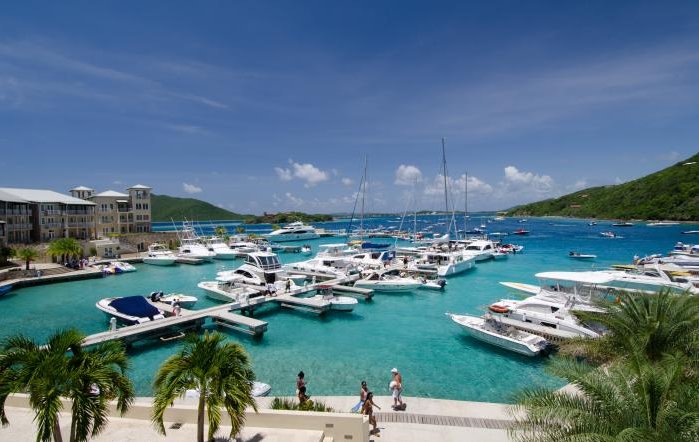 The Scrub Island Resort is a luxury private island resort, started in 2003 and completed in 2010.  It was the first resort development to be built in the British Virgin Islands in more than 15 years. It features 52 guest accommodations as well as a collection of two-, three- and four-bedroom villas, spa, restaurants, three private beaches and a 55-slip marina.
There was considerable controversy surrounding building a resort and marina on this otherwise pristine, uninhabited, and untouched island.  Environmentalists were solidly against the resort.  Many people predicted it would fail.
However, permits were eventually granted, and construction started.
Summers End Group wants the Coral Bay marina to emulate Scrub Island Resort
Quotation from The Summers End Group 2012 Marketing Brochure:
"Le Petit Maisons [sic] (the little plantations) is the first residential component offered for sale exclusively through the Summer's End Group. This 7.25 acre ridge-top property overlooks The Yacht Club at Summer's End and The St. John Marina . . . The Ocean View Villas Residences of Scrub Island, BVI are comparable."
"The Docks at Summer's End would complement the mid-market St. John Marina by offering an additional 60-80+ slips for yacht charter fleets and small to mid-sized vessels, as well as products and services like boat service and repair, dry storage, larger scale commercial and residential components.  Again, following a model that has a recent, proven record of success like Scrub Island in the BVIs is envisioned."
But – – – Scrub Island Resort is now in bankruptcy.  It failed in less than three years.
Scrub Island Resort and Marina is in a protected harbor with deep water, boater-friendly regulations of the BVI, has a number of amenities to draw boats/boaters, and even has three beaches for guests to enjoy.  All of these are aspects that are missing from the SEG proposal.
However, even with all those attributes, Scrub Island never was able to attract enough boats/visitors to service the debt.
Information about Scrub Island Bankruptcy, 2013, newsismybusiness.com
"Scrub Island Development Group Ltd., the owner of a posh resort in the British Virgin Islands, has filed for Chapter 11 protection in a Florida bankruptcy court to ward off a request for receivership granted to FirstBank Puerto Rico through which it seeks to collect on a $108 million loan.  SIDG's court filing is a last-ditch effort to prevent the local bank and a third-party appointee from taking over the resort's assets and operations — valued at between $100 million and $500 million. Scrub Island's owners have apparently been struggling for several years to make their payments on the loan FirstBank granted in 2007."
Information about Scrub Island bankruptcy, 2014, The BVI Beacon
"Scrub Island Resort's owners have come up with a debt-restructuring plan that would take it out of bankruptcy. But the resort's biggest creditor isn't on board.  For four months, Scrub Island, which remains open for business as usual, has been the focus of a bitterly contested, cross-border legal dispute.  FirstBank Puerto Rico contends that the resort's owners, Scrub Island Development Group, owe it over $120 million in principle and interest payments but asserts that the company's assets are worth less than $50 million.
On Nov. 1 the bank successfully applied to the Virgin Islands Commercial Court to have a third-party receiver, Meade Malone, appointed to oversee the resort's operation, a preliminary step to foreclose on the loan.  However, two weeks later, SIDG and Scrub Island Construction Limited, a related company that built villas at the resort, filed jointly for bankruptcy in a United States court, asking for more time to restructure finances.
Over repeated objections from the bank, a US judge has allowed the bankruptcy filing to move forward, and the resort filed a restructuring proposal with the court on March 19."
Letters from Citizens in the Local Marine Industry
Bernie Altmeier, Captain
Trent Myers, in Marine Industry
Miller Graves, Sailor and lived on Board in Coral Bay
Lance Davies, Captain
Roberta Marquis, Captain
Kathrine S. O'Neill, Captain
 Jared Warren, Captain and Marine Biologist
Erin Scott, Charter Boat Employee
Jimmy Kiote, Captain
Mark Maunder, past Commodore of Coral Bay Yacht Club
Mark Buchalter, Captain
Martha Toomey and Jeffrey McCord, Sailors
Robert Sells, Boat Owner and Marina Store Owner